Woodland Park Bird Survey
Upcoming Survey: Saturday, November 2 at 7:30 AM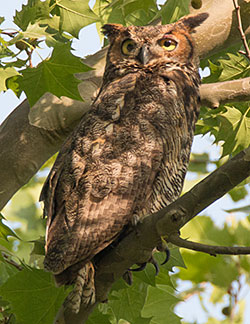 Great Horned Owl at Woodland Park
Latest Report: October 5, 2019
We had our October bird survey this morning at Woodland Park with 24 species observed. There were several warblers around, Wilson's, Nashville, and American Redstart. We also got a look at the Great Horned Owl which was a little too close, and tucked away for a scope view, but was easy to see through binoculars. The full list is below. Our next survey will be on Saturday, November 2 at 7:30 AM. See the link at the top of the page for a spreadsheet containing the data on all walks.
-- Jason Bonilla 
Monthly Surveys
Meet count leader Jason Bonilla in the parking lot of Woodland Park. Please note that the park does not have a maintained trail system. As such, there is a lot of poison ivy that is somewhat unavoidable when walking the park and looking for birds. Additionally, there are terrain changes and unstable areas. Participants should wear long pants and closed-toe shoes. We usually meet on the fourth Saturday of the month. Please check the website for last minute updates.
Background Information: (by Jason Bonilla) Woodland Park, located a few miles from downtown in Woodland Heights, is an excellent park for urban birding. The Friends of Woodland Park and members of Houston Audubon get together monthly for a 2-hour bird walk from 7:30 to 9:30 AM. We have seen lots of great birds during every season over the past few years, including nice spring migrants. Several exotic species have also been seen at the park, including Red-vented Bulbuls, Nutmeg Mannikins, and Orange-cheeked Waxbills. Anyone is welcome to join us as we explore one of Houston's oldest parks.
Leader: Jason Bonilla (jason.bonilla@gmail.com)
Park Address: 212 Parkview, Houston, 77009