Community Swift Night Out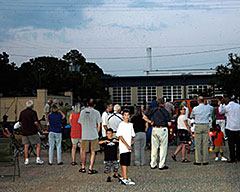 Swift Night Out at Lakeview Elementary
Who
If you enjoy birds and want to participate in a community effort to help figure out where Chimney Swifts are in Houston.
What
At dusk, Chimney Swifts begin circling roosting locations. They then swoop into their roosting locations and can be counted as they enter the chimneys.
When
Our community count will be held on Tuesday, August 6, 2019. (Back up rain date is Saturday, September 14.) A count is short and sweet (around 30 minutes at dusk), but can make a real difference in understanding the behavior of this unique species!
Where
We'll spread out across the city at various sites where we think Chimney Swifts may be roosting—at large silo-style chimneys and in specially-designed Chimney Swift towers.
This form stopped accepting submissions on August 6, 2019 8:00 pm CDT.
Constructed Chimney Swift Towers
Ed White Elementary School, 1708 Les Talley Drive 
Hogg Bird Sanctuary, 1 Wescott Street
Houston Zoo, 6200 Hermann Park Drive *Zoo staff
Kleb Woods, 20303 Draper Road
Nature Discover y Center, 7112 Newcastle
White Oak Parkway, 1720 White Oak Drive
Willow Waterhole, 5201 S. Willow
Woodland Park, 212 Parkview
Bellaire Residence
Established Sites at Silos/Large Chimneys
Pershing Middle School, 3838 Bluebonnet (Stella Link entrance)
St. Paul's Church, 5501 Main St.
Whole Foods Market Bellaire, 4004 Bellaire
Why Swifts?
Chimney Swifts are migratory birds that use chimney-like structures to nest and roost. Chimney Swift populations are in decline, and local partners are working together to help this iconic, urban bird species. Your collected data will be used to inform conservation decisions in Houston.
Tips
Read the flyer for tips when counting swifts.
Contact
Make note of your count! Please report your site name and count total to avallery@houstonaudubon.org. We will also follow up to thank you and collect data not yet
submitted.