Memorial Park Eastern Glades and Hogg Bird Sanctuary
Upcoming Survey: July 4, 2022
Masks and social distancing are required to participate. Please meet at 7:30 am in the north end of the Glades parking lot near the restroom pavilion off East Memorial Loop Drive. It's forecast to be sunny and cold, so we've scheduled this a bit later to let the birds warm up a bit.  After we finish glassing the Glades, we will go separately to Hogg sanctuary and survey there. You do not have to do both surveys. Don't forget your mask and binoculars, and give yourself a few extra minutes to feed the parking meter ($1) at the Glades.
Leader: Skip Almoney
About the Survey
We are conducting a monthly survey at the Eastern Glades portion of Memorial Park and the nearby Hogg Bird Sanctuary. The survey is held on the first Monday of the month. Skip Almoney is our leader. We usually begin at the Eastern Glades at 7:30, but please consult the calendar for any changes to time or meeting location.
The Eastern Glades of Memorial Park is on East Memorial Loop Drive, just north of Memorial Drive. Meet at 7:30 AM in the north end of the Glades parking lot near the restroom pavilion. Everyone is welcome -- beginners, experts, or even if you're just curious. Please bring binoculars.
The Hogg Bird Sanctuary is adjacent to Bayou Bend and shares its parking facility at 1 Westcott Street. Following the Glades survey, we meet up again at the parking lot at the dead-end on the south end of Westcott Street. If the gate is locked, we can park in the upper parking lot and then walk down to the lower parking lot to meet.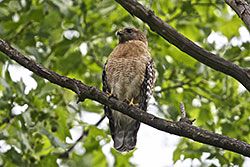 About Hogg Bird Sanctuary
The Hogg Bird Sanctuary is located at the south end of Westcott St., just off Memorial Dr. It is across Buffalo Bayou from River Oaks Golf Course. It shares the parking lot with Bayou Bend. It has been managed by Houston Parks and Recreation Department since its origin on October 21, 1958. The Hogg Bird Sanctuary is a special place, being a small natural area essentially unchanged by development. It is more a sanctuary than a park and contains no recreational equipment. It remains a natural area with many native plants.
The First Monday Bird Survey began in 2010. At that time it was fairly difficult to get around in the area. Since then the Houston Parks and Recreation Department has continued to create and maintain a number of hiking trails, resulting in a much more accessible sanctuary. The bird population varies as seasons and weather change. The average number of species seen during a survey is 23. The total number of species recorded is over 60. Included are mostly local nesting species such as Northern Cardinal, Blue Jay, American Crow, Carolina Wren, Tufted Titmouse, Carolina Chickadee, White-winged Dove, Northern Mockingbird, Pileated, Downy, and Red-bellied Woodpeckers, to name a few. Because much of the boundary of the sanctuary is Buffalo Bayou, a few waterbirds have been recorded such as Snowy Egret, Great Egret, Great Blue Heron, Little Blue Heron, Wood Duck, Belted Kingfisher, two varieties of cormorants, etc. During migration, the variety of birds increases substantially.
About the Eastern Glades
The Eastern Glades is the first major Master Plan project to be implemented in Memorial Park. The Glades project reclaimed 100 acres of previously inaccessible parkland, creating an exciting new birding hotspot with 3 different habitats – lake, forested wetlands, and savanna. This survey will help assess the bird diversity within Eastern Glades and establish a baseline of avian species. During our first survey following the public opening, we found 3 Red-headed Woodpeckers and a nesting pair of Least Grebes, among 13 other species. For more information about the Eastern Glades, please see: Master Plan on the Memorial Park Conservancy website.