Laura Singleton Exceptional Volunteers
The Laura Singleton Exceptional Volunteer Award is an annual tribute and memorial to Laura Singleton, a long-time Houston Audubon volunteer who passed away in 2002. A memorial service held at Edith L. Moore Nature Sanctuary brought hundreds of her Audubon friends to the sanctuary to honor her memory. HAS President Jeff Mundy announced at that service that a volunteer excellence award would be established in Laura's honor
The criteria for the award mirror what Laura herself represented - the best of volunteerism. Laura was collaborative, inclusive and flexible in getting people to work together. She never hesitated to ask others to help, and because she approached everyone with enthusiasm and good humor, people responded in kind. Although she could see the obstacles, she typically proceeded without hesitation to think up seven or eight ways to overcome them. She is still greatly missed by all of us at Houston Audubon, and we take great pleasure in honoring her.
Laura Singleton Exceptional Volunteer for 2015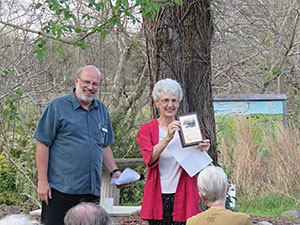 Mary Carter with Houston Audubon President John Bartos
At the Volunteer Appreciation picnic, held February 13, Houston Audubon President John Bartos presented the 2015 Laura Singleton Award to Mary Carter. John explained how Mary exemplified all of the traits that we honor with the Laura Singleton Award. Mary's time commitment is evident in the fact that since she started volunteering in 2003 as a board member, she has served as president-elect and president from 2009-2013, has served as VP of the Environmental Affairs committee, and presently is chair of both the Advocacy Committee and Land Trust Accreditation Committee. She also works in the Natives Nursery and participates in Birdathon.
Executive Director Helen Drummond commented on Mary's effectiveness as chair by saying, "Mary's commitment, legal background, and knowledge about land conservation have been invaluable to this process. We are fortunate to have Mary lead this effort. She has a quiet disposition but is very effective at galvanizing support to get things done. She is such an asset and joy to work with." We are very fortunate to have Mary share her spirit of volunteerism with Houston Audubon. Staff member Flo Hannah works with Mary in the Natives Nursery and wrote this when nominating Mary for this year's Laura Singleton award: "I have worked with Mary for well over a decade. She has given her time and expertise to Houston Audubon as an advisor, board member, board president, and volunteer. Houston Audubon and I have gained so much, but the best part is having gained a loyal and very funny friend. I personally hope she never, ever plays poker; her face is an open book. She laughs, cries, frowns, scoffs and scowls at anything that opposes good conservation for birds and their habitat. As an organization, we could not have asked for a wiser or more dedicated advocate." From all of us, thank you Mary!
Laura Singleton Exceptional Volunteers
2012Judy Boyce and Martha Wright

2011Jim Winn and Jennifer Lezak

2010Sara Bettencourt and Pam Smolen

2009Joy Hester and Don Verser

2008Hurricane Ike Cleanup Volunteers

2007Barbara Tilton and Aaron Stoley

2004Don Gray, Susan and Brad Billetdeaux

2003Peggy Boston and Betty Keith

2002Marjie Pierce and John Miers