Edith Moore Policies and Permits
Visitor Information
Privately owned and managed by the Houston Audubon Society.
Open 365 days a year - Gates open at 7 AM and close at 7 PM (9 PM in summer).
Boardwalks may be slippery when wet.
Beware of venomous snakes, mosquitoes, fire ants, poison ivy and armadillo burrows.
Your generous donation helps to preserve the sanctuary for the birds and for our future.
Policies and Permits
Because this is a wildlife sanctuary, we ask you to observe the following rules.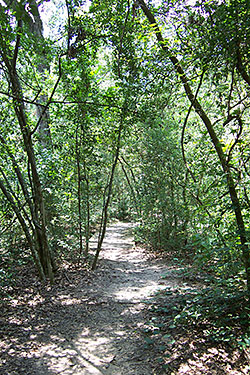 Respect all wildlife

You are the visitor – This is their home

Respect the peace

Be considerate of other sanctuary visitors

Leave nature as you found it

No harming or collecting or introduction of plants or animals

Pack out everything you pack in

Use of laser pointers is prohibited at all Houston Audubon sanctuaries

No pishing or use of playback devices unless special permission is obtained

Firearms are not permitted on the grounds

No smoking or alcohol consumption

Must be an active Houston Audubon member. Dogs must remain on leash and wear their Houston Audubon leash sleeve at all times. Click the link above to register online.

Nature photography is encouraged.
Click the link above to register online for Portrait Photography.
Note that all portrait photographers (amateur or professional) must pre-register and pay Houston Audubon a permit fee to take posed portraits of individuals or groups on our grounds.
Contact Bethany Foshée, Edith Moore Sanctuary Manager, at bfoshee@houstonaudubon.org with any questions.