Birthday Parties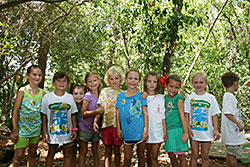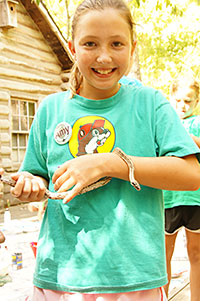 We offer children's nature-theme birthday parties August through May in the Houston Audubon Society's historic log cabin at the Edith Moore Nature Sanctuary. Mrs. Moore hoped to share her log cabin and her nature sanctuary with children for generations, and it is our hope that your child will be inspired with a love and appreciation for nature by having their party here. At our birthday programs, the children are entertained and educated by our Houston Audubon Naturalist, Sarah Ranger. For your party, you can choose three of the following options:
A guided nature hike in the woods
Pond dip-netting for tadpoles, mosquito fish, and more
An exciting encounter with our education animals
A walk in Rummel Creek (wear water shoes or old sneakers)
A nature-themed craft of your child's choice (list below)
A hands-on service project in the gardens or trails
Parties are led by our Birthday Party Head Naturalist, Sara Ranger.
Two-hour program features a guided walk in the woods, pond dip-netting, nature games, live animal encounter, and a nature craft.
Scheduled August through May on weekdays and weekends - between 10 AM and 5 PM. Please note that birthday parties are unavailable in June and July.
16-child maximum (including birthday child).
$250 fee for Monday - Friday parties; $280 fee for Saturday and Sunday parties.
Parents furnish all food, paper goods, utensils.
Suitable for children 4 - 10 years old.
Please contact Bethany Foshee, Guild Coordinator, at bfoshee@houstonaudubon.org to schedule a party.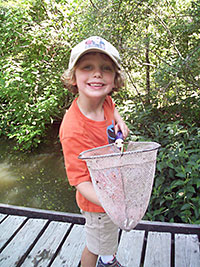 Please be kind to the environment when you plan your party!
Houston Audubon and the Audubon Docent Guild are environmental education and conservation organizations, and all of our programs support this mission. The flyer linked above has some suggestions about reducing waste and making sustainable choices when planning your birthday party. Please let us know if you have any questions, or if you would like any additional resources.
Birthday Program Crafts
Wildlife

Makin' Tracks - Plaster-of-Paris wall hanging or necklace with native animal track castings: raccoons, armadillos, possums, owls, woodpeckers, etc. (Ages 7-10 only.)

Clay Sculptures - Make clay animal sculptures using air-dry clay, wooden tools, feathers, sequins, etc – a creative craft for any animal-themed party

Clothespin Bat - Clothespin base with foam wings and felt ears.

Bird

Bird Seed Ornaments - A delicious cookie, 'baked' with dried fruits and bird seed, shaped with cookie cutters and hung as a gift for the animals.

Mini Bird House - Paint and decorate miniature wooden bird houses.

Bird's Nest - Crushed paper bag with pompon bird and clay eggs in moss.

Reptile/Amphibian

Yarn Snake - Wrap colorful yarn around a snake shape with a felt tongue and googly eyes.

Slithering Snake - A bendy snake toy – made of wooden ice cream spoons, bradded together and decorated, complete with forked tongue.

Scaly Snake - Snake Outlines to color and decorate with seeds (lentils, beans, etc.) to give each snake its own unique, scaled pattern.

Floating Frog - Decorated cork with googly eyes and pipe cleaner legs - ready to take out to float in the pond!

Insect

Giant Bug - Decorate giant bug outlines to create your own whimsical creature – ladybug, caterpillar, ant and dragonfly outlines – decorate with markers, pipe cleaners, googly eyes, sequins, feathers, craft fur, etc.

Caterpillar - Multi-colored beads, threaded on pipe cleaner, with feelers.

Dragonfly - Clothespin base with iridescent wings and pipe cleaner legs.

Butterfly - Clothespin base with foam wings and pipe cleaner legs.
Meet Ranger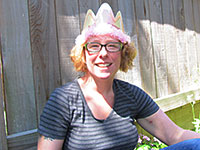 Sara Ranger
Ranger loves birthdays and enjoys making them special for everyone. Ranger is a teacher, a librarian and an entomologist who is crazy about animals and the outdoors. She likes to walk her dogs, garden, and read mystery and fantasy novels in her free time. Ranger has master's degrees in both entomology and library and information science. She worked as a science librarian for seven years and taught school for three years. Ranger mentors for a summer program called DECATS and volunteers with the TWRC wildlife center. She has a husband and several animals at home.