Birding Classes
With Glenn Olsen
Classroom location: Houston Audubon's Edith L. Moore Nature Sanctuary. 440 Wilchester Blvd., Houston, TX 77079. Telephone: 713-932-1639

Classroom sessions are normally held in the administration building which is the brick building you first come to on the gravel drive as you enter the sanctuary. On a rare occasion we meet in the log cabin, which is the second building.
Field trip locations: We will review all the details for the field trip in class. The instructor will be checking for bird activity the week of the class to maximize our opportunity to see birds. You will be provided info by email on what to bring and complete driving directions to our meeting location a few days before the field trip. 
 
Upcoming Classes
Shorebirds: May 23-27
Shorebirds are an elegant and beautiful group of birds that grace our shores, marshes, and fields. The upper coast is one of the best places in North America to enjoy and learn about Shorebirds. Some species are seen primarily in migration, some primarily during winter and others we have throughout the year. Join us to learn how to simplify the identification of shorebirds. Through an organized and systematic approach to identification, you will soon learn to recognize most of the shorebirds. For the peeps, well that takes a little more time and practice but we will get you on the right path to learn these small, challenging and beautiful shorebirds also. This class is open to all levels of birders and photographers.
Class: Tuesday, May 23, 2017 (7:00-8:45 PM)
Field Trip: Saturday, May 27, 2017 (7:30 AM - 4:00 PM)
---
Botany for Birders: July 13-15
Learn the basic and most common plants that we normally see birds in. This will be a great aid for sharing where a bird is located as well as learning how to look for birds based on the habitat. Learning to identify plants is the foundation for understanding habitat and what birds occur in different plant communities. This class will provide the groundwork for you to become a more knowledgeable birder and provide a solid basis for learning about plants.
Evening Class: Thursday, July 13, 2017
Short Field Trip: Saturday, July 15, 2017
---
Habitat Gardening and Landscaping to Benefit Birds : August 17-19
An introduction to using plants in our landscape that benefit birds, butterflies and pollinators. We will also consider suitable design and maintenance to comply with homeowner associations rules. Planting beneficial plants is helpful but more important is the concept of creating habitat structure with these plants that is the foundation for birds to have a place to live. Through this class you will learn about the Bird Friendly Communities program and how to qualify your yard as suitable bird friendly habitat..
Evening Class: Thursday, August 17, 2017
Short Field Trip: Saturday, August 19, 2017
---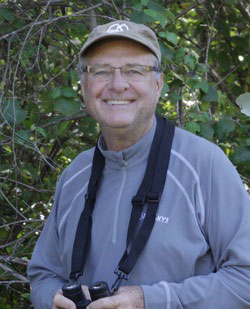 Glenn Olsen
Instructor
Glenn has had a passionate interest in nature since early childhood. In addition to bird identification, he has a special interest in the relationships of plants, birds, butterflies, and other insects. Glenn teaches Bird Identification and Nature Related classes at Rice University's Glasscock School of Continuing Studies and is an instructor for Audubon's Birding classes. He served as State President and Houston Chapter president of the Native Plant Society of Texas. Glenn is a certified Texas Master Naturalist and is a regular speaker for the training program. He leads field trips for the Katy Prairie Conservancy and gives presentations at festivals such as Galveston FeatherFest and the Rockport/Fulton Hummingbird Festival among others. Glenn also leads professional birding and natural history tours for groups and individuals with recent trips to Big Bend, Costa Rica, Ecuador, the Amazon Rain Forest and The Galapagos Islands. Find out more on Glenn's GO Birding Ecotours Facebook page. Contact Glenn at h.glenn.olsen@gmail.com.