Armand Bayou Bird Survey
Next Monthly Survey: June 10, starting at 7 AM
We will hold our bird count at 7 AM, starting off from the front parking lot of Armand Bayou Nature Center, dispersing from there. Please try and be here by 7 AM as gates will lock promptly at 7:05. I really hope you all can join us as we can try to spread back across all of our many areas we typically bird. If we have enough volunteers, I would like to not only cover Armand Bayou and Bay Area Park but also UH Clear Lake, a few offsite lakes/ponds, and the Village Grove portion of upper Armand Bayou. If you plan on attending, feel free to shoot me an email or just show up! Following the count, we will meet at approximately 10:15 AM to tally what we have seen for the day. I hope to see you there!
Andrew Hamlett (bachwblr@yahoo.com), Leader, Armand Bayou Nature Center Survey
Latest Report: May 13
I hope everyone had a nice time on our May count; I'd say we had a great day warbler wise, especially given it's the middle of May.  When you show up to the parking lot and you're seeing warbler's as you get out of the car, it's a pretty good indication it's going to be a nice morning.  We ended the day a bit down on average species (57 total for the day) but considering several of our regular volunteers were out this month and we didn't go offsite, I'd say we still did very good.  We did manage to find a total of 13 different species of warbler's and very good numbers at that. Another nice sight was a Yellow-billed Cuckoo that showed up near the bird blind.  No orioles, 1 singing Summer Tanager, and no Painted Buntings.    A big thank you to everyone who helped out!  I'll post a few pics to our Facebook page. 
Andrew Hamlett
Background Information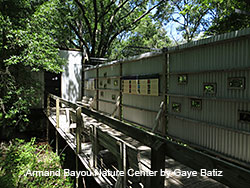 The Armand Bayou Nature Center is one of the largest urban wildlife refuges in the United States. The 2,500 acres of the refuge include prairie wetlands, forested wetlands, marshes, and the bayou. It provides great birding opportunities in a convenient location in Clear Lake off Bay Area Blvd., near the Johnson Space Center. Andrew Hamlett has been leading monthly bird counts at Armand Bayou Nature Center for Houston Audubon since 2006. In addition to the nature center, Bay Area Park and the UH Clear Lake campus are also surveyed if there are enough participants. Counts are held on the second Saturday of each month.