Armand Bayou Bird Survey
Next Monthly Survey: February 11, starting at 7 AM
We will hold our bird count at 7 AM, starting off from the front parking lot of Armand Bayou Nature Center, dispersing from there. Please try and be here by 7 AM as gates will lock promptly at 7:05. I really hope you all can join us as we can try to spread back across all of our many areas we typically bird. If we have enough volunteers, I would like to not only cover Armand Bayou and Bay Area Park but also UH Clear Lake, a few offsite lakes/ponds, and the Village Grove portion of upper Armand Bayou. If you plan on attending, feel free to shoot me an email or just show up! Following the count, we will meet at approximately 10:15 AM to tally what we have seen for the day. I hope to see you there!
Andrew Hamlett (bachwblr@yahoo.com), Leader, Armand Bayou Nature Center Survey
Latest Report: October 16
The October count was a picture perfect morning, nice temps, clear skies and lots of birds,. There were 28+ volunteers that showed up to the count, consisting of 7 different groups: 3 at ABNC, 1 at Bay Area Park, a boat crew, a UHCL crew and a Village Grove crew. Its become even more clear how important it is for us to always try and cover the various areas. Every month we spread out like this, you can see the trends and diversity of species we find. The more eyes the better! Had we just done the Armand Bayou property, we would have only had roughly 59 species. Because of you're dedication and time, we found 70 unique species for the day. A big THANK YOU to everyone! If anyone has not checked out our Facebook page, please do so. Remember, you do not have to be a Facebook user to visit the site, but if you are, don't forget to like us :). We will have the most up-to-date information for upcoming counts. some pictures, as well as information on the annual Christmas Bird Count on December 17
Andrew Hamlett
Background Information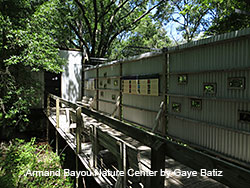 The Armand Bayou Nature Center is one of the largest urban wildlife refuges in the United States. The 2,500 acres of the refuge include prairie wetlands, forested wetlands, marshes, and the bayou. It provides great birding opportunities in a convenient location in Clear Lake off Bay Area Blvd., near the Johnson Space Center. Andrew Hamlett has been leading monthly bird counts at Armand Bayou Nature Center for Houston Audubon since 2006. In addition to the nature center, Bay Area Park and the UH Clear Lake campus are also surveyed if there are enough participants. Counts are held on the second Saturday of each month.